February 2017. Sold my Icom IC-7600 and replaced with a FlexRadio 3000. The 7600 is a great radio but after playing with the SDRPlay receiver since it came out I really wanted a SDR Tranceiver. The radio has not been manufactured by FlexRadio for a few years. In the links below I am gathering together everything I can find on the 3000. Come back often. ( In June of 2018 I sold the 3000 to a local Ham and purchased a Flex 6400. )
So far the only downside is the Noise Blanker in the 3000 is no way as good as the 7600. Below is a suggestion from KE9NS that is a good place to start:
"I think that you need to set the setup->DSP->phone->RX butter size low to allow it work.
If you keep the RX buffer big 2048 or 4096, you get super sharp band pass filtering, but it messes up the NR and ANF. Not sure why.
If you set the buffer to 1024 or smaller, NR & ANF will work better. Then you can set the TAPS big so the NR can work out the noise better. If you try a high TAPS while running a big RX buffer, its really bad. NR seems to work better in AM than SSB."
Flex Links 6000 Series
FlexRadio Systems Website
FlexRadio Systems hints forum.
FlexRadio Community Forum
Flex users and FlexRadio employees hints, problems, and fixes.
WoodBoxRadio S Meter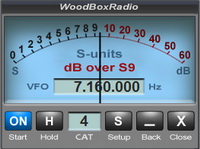 Freeware. Link downloads the .exe file.
Setup a FlexRadio CAT port for the meter to attach to.
Earlier WoodBox Flexmeter V1.2 download
Lots of utilities for Flex SDR Radios
Remote Control
Many Flex users have extensive remote control systems for their radio, antennas and rotors. I just wanted something to turn on/off and re-boot the radio when I was operating remote. The Flex Community have come up with the solution below. It's cheep and works well. If you already have other remote Internet Of Things ( IOT ) plugs in your house you could use them with the relay module. Connect a jumper with bare wires on the NO and Common on the relay module. Put an RCA plug on the other and connect that to the Remote RCA connector. Use the their app to turn your radio on/off remotely.
IOT
Kasa Smart WiFi Plug ( on Amazon ) Mini by TP-Link - Reliable WiFi Connection, No Hub Required, Works with Alexa Echo & Google Assistant (HS105)
Relay Module
Universal control voltage 3-60VDC or 12-120VAC connects to Arduino, Raspberry Pi, PIC or other micro. Or connect directly to a 12V to 48VDC or even 120VAC circuit. https://dlidirect.com/products/iot-power-relay.
Available on Amazon when they have them in stock.
Flex Links 1500, 3000, 5000 Series
PowerSDR kE9NS
FlexRadio no longer upgrades the PowerSDR software but, KE9NS not only keeps it current but is continually adding improvements and new features to PowerSDR. Click here to download the latest KE9NS PowerSDR features.
Supports the Flex 1500, 3000, and the 5000.
2010 PowewrSDR V2.x Manual. (Download .pdf file)
W6OP Flex 3000/5000 basic and advanced setups.
*How to Configure the FLEX-3000/5000 for use with WINMOR.
*Above How to saved in MS Word format for easier read.
Setting Transmit Audio Gain Distribution in PowerSDR - W1AEX
Another – Power SDR Transmit Audio Settings
One of the great things about Software Defined Radio is the ability to make "virtual" ports. Most of the above links recommend the Com0Com virtual serial port software and the Virtual Audio Cable program to create audio ports. VAC worked great for me ( Probably because it is not free? ) but Com0Com was a complete bust.
Thanks to Google I found VSPM ( Virtual Serial Port Monitor ) by K5FR. Worked great for me for HRD and Winlink.
RemAud. Remote control audio over VoIP
A Voice over IP (VoIP) application primarily designed for two-way amateur radio remote control over the Internet I haven't tried this yet but gets good reviews.
Troy Radio Service
Services all the older Flex Radios.
Updated 1/28/2023